When: Wednesday, Nov. 20th 1:00 – 4:30pm
Where: Saint Joseph's Church Field
What's Provided: Child supervision for current CFS students, bowl, plate, utensils, a meal, and lots of fun! If your child will not be attending, please inform your child's teacher in advance.
What to Send: A vegetable for your child to contribute to the soup or salad, a water bottle (with their name on it), and a jacket.
*The children will be walked over to the event after school. Each child is assigned to a group (a mix from each grade), that will rotate through the stations. There will 5 stations: Soup & Salad, Art, Tea & Story Time, Cornbread & Butter, and Music & Game. At 4:00pm everyone will come together to enjoy the wonderful food! Parents and siblings are encouraged to come participate in the event! Pick up time is at 4:30; PLEASE INFORM YOUR CHILD'S TEACHER WHEN YOU ARE LEAVING THE EVENT WITH YOUR CHILD.
This event will only happen with volunteers to lead groups through rotations and help with stations, so please sign up as you won't want to miss out on this Family School tradition (note: if you sign up to lead a group you will most likely be placed in a group with your child, so please note if you prefer otherwise):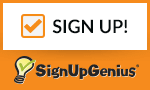 Please reach out in email if you have questions… thanks!